Day 25- PANCAKES.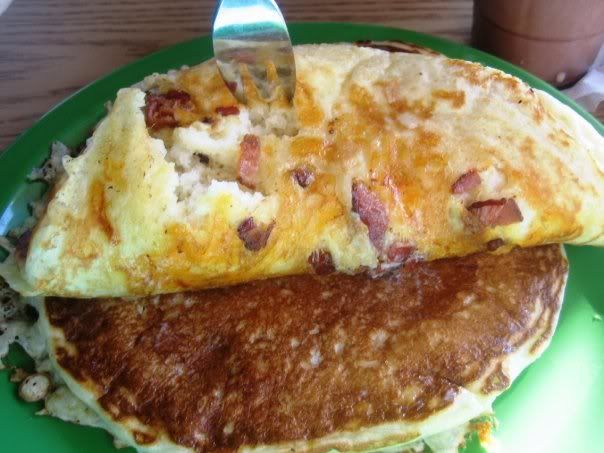 I like to think with my tummy, and my tummy thinks that Fresno has some pretty fantastic breakfast spots.
Oh come on, you know you wish you could have breakfast every meal. Don't act like I'm the crazy one for making Pancakes a reason to love living in Fresno.
I have to say my big super ultra mega top pancake experience comes from Batter Up. You can basically put anything they have in their pantry in a pancake. In the morning everything is just static to me, but I can always very clearly hear my husband when he says "Mumfubuzzmmuuhmmnnnhhuyushhhhmmmmzzzz Bacon cheddar pancakes?" Uh yeah, do velociraptors get repelled by grape juice? (Answer is: Probably. Very likely.) Their short stack consists of two pancakes the size of my head. Maybe even the size of Doug's head. Also, they're kid friendly, they have a chalk board in the corner for kids to go nutZ on and then come back to the table covered in fine pink and blue and green dust for optimal enjoyment of pancakes.
Mak's Landing in the Chandler Airport gets a close second, though. Once again, pancakes the size of the plate that turn into sumptuous morsels of doughy syrupy joy, but with the really cool added bonus of getting to watch planes land and take off just outside the window.
For the fine-dining pancaker, of course there is Patio Cafe in Fig Garden, which in addition to perfect pancakes has some of the best dang omlettes ever. The atmosphere reminds me of having breakfast at a restaurant on the coast… casual but at the same time really special. And I'm pretty sure you should order a mimosa with your pancakes. Why not? Be sure to click the link, you're gonna love the music. I'm finding myself swaying back and forth muttering "Pancake" in a very seductive, Barry White way.
Everyone has a place they go for those pancakes that haunt their dreams, where do you pancake it up?
(Photo by me of a Batter Up masterpiece!)
(I know you're questioning my judgment on the whole bacon cheddar pancake business, but don't knock it until you've tried it.)