Day 11- Produce and Agriculture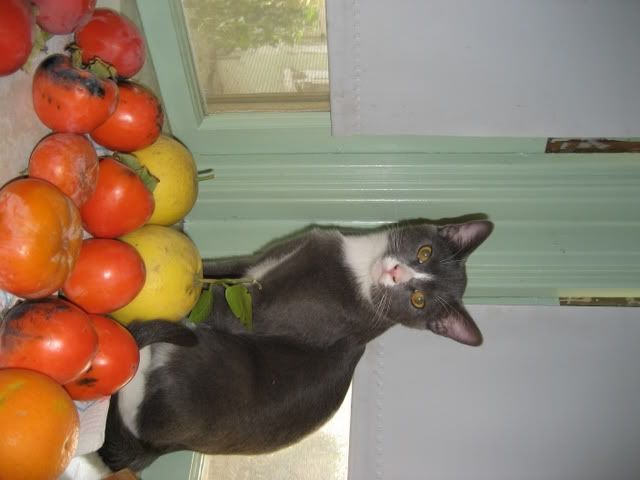 I went to school for two years in Orange County and I never appreciated the abundance of produce in Fresno more. You'd think "Yeah, a county of oranges, SUH-weet!" about OC, but yeah… not really. I remember a lot of the produce I consumed was kind of… soggy. Maybe it was just dorm food (likely) but it was absolutely nothing like I was accostomed to. (Read as: spoiled by.) I became a total produce snob, when it was cantaloupe season I got offended that it wasn't as sweet. When it was time for grapes I was mad that they weren't as crisp but already well on the road to raisinhood.
The real kicker, though, was bringing home one of my boyfriends who was from Southern California to meet my family and see Fresno. We're driving along the 99 and he asks me "So are we going to see some grape orchards?"
Orchards, folks.
Now, I'd like to think that was an isolated event and not all SoCal folks are like that but even so I am proud to be from Fresno for the plain and simple fact that I can recognize with some level of accuracy the difference between vines and trees, and am able to identify them properly.
Its pretty bad ass, in fact, that all I'm going to need to do to tell my children about the food they eat is take them on a walk down our street. We'll be able to see apples, oranges, cherries, peaches, apricots, persimmons, lemons, grapefruit, strawberries, pecans, almonds, pomegranates, tomatoes, and a variety of herbs. And thats just between our house and my grandmother's house 3 doors away. Everything can grow here, we are able to enjoy delicious fresh fruit and veggies all year long in Fresno without even having to go to the grocery store. (Though we do, because that's how we roll in 2010.) Our farmer's markets are always full of seasonal delights, all it takes is driving, biking, or walking to one and BAM! You're in fresh produce heaven.
I'm pretty pleased that living in Fresno has helped me to be more aware of the origins of the stuff I put on my plate. And then shortly after its on my plate, into MAH BELLEH.
(Picture taken by me of the late Chairman Meow, inspecting the bounty of the land. He is pleased. May he rest in peace.)